Once One HEART's work was terminated there was nothing I could document other than the frantic two weeks Arlene Samen (Executive Director of One HEART) spent trying to get permission for her organization to continue its work.   After the decision to stop One HEART's work in Tibet had been made, Arlene left for Nepal.   She is hoping to begin another maternal health program based in Kathmandu.   Her Tibetan staff's reaction to the bad news was interesting.   I didn't see them express any anger or utter one complaint.  While they sat around in stunned disbelief the most reactive words I heard from them were 'This is difficult' and 'This is sad'.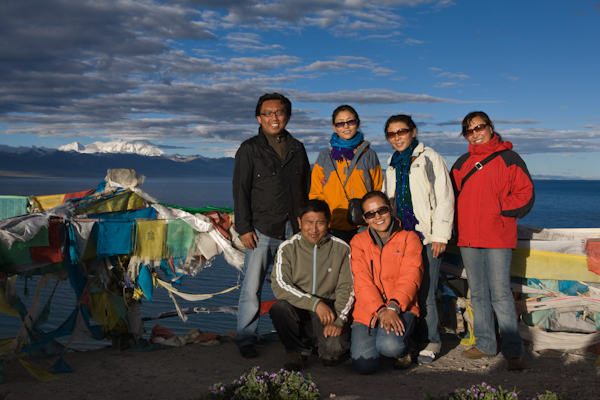 The One HEART Staff in happier times.
Today I learned that Arlene has decided to donate all of the One HEART assets in Tibet to the Tibetan Staff in hopes that they will be able to continue their work.  They are currently looking for foundational support out of Hong Kong.  It's great to see that they are not giving up!  I just hope they make it. 
After Arlene left I decided to stay and document some of the drokpa families (nomadic families) in the areas where One HEART was about to expand its work.   Since I couldn't document One HEART's work I decided to document the typical families they were working with.   I hired a guide and three yaks and took off on a five day trek into the beautiful high mountain valleys north of Lhasa.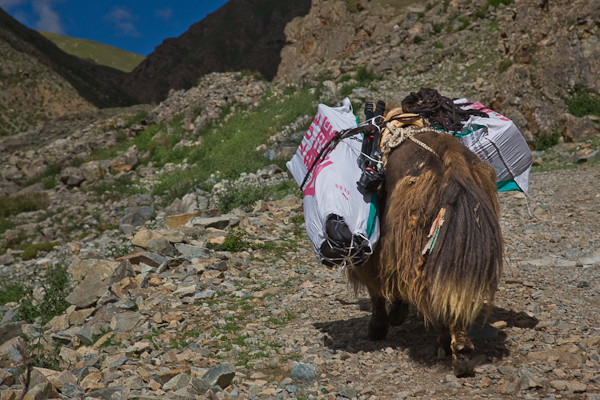 I watched nervously as Tenzin the Yak herder put my camera bags into a flimsy gunny sack and precariously roped it to the back of a Yak.
Yaks have three times more red blood cells than the average cow.  With its long hair and ability to survive in oxygen depleted air the yak thrives in the high altitudes where cows would perish.  Just as the buffalo was central to the life of Native Americans the yak is critical to the survival of the Tibetan nomads.  The milk is made into cheese, yogurt and butter which is used in butter lamps and the omnipresent butter tea.   The yak hair is woven into tents, blankets, bags and rope.
Yaks are great pack animals but are almost impossible to herd when they are alone.  So anytime you need to hire a yak for a trek you need at least two.  The typical price is about $6 per day per yak—the yak herder is free!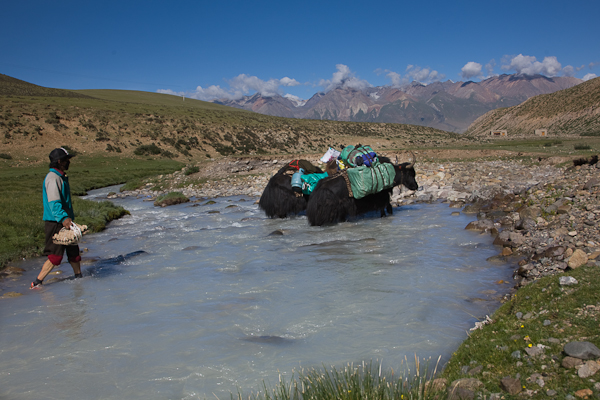 I held my breath every time the Yak crossed a river or creek and prayed it wouldn't decide to lie down to cool off.   I carry my equipment (Canon Mark III 1ds; Sony EX1 Video Camera; lights and sound equipment in two bags).