This project started as a cross-cultural exploration of the way severe mental distress is defined and treated. After interviewing close to 20 different psychologist and psychiatrist, we have found some emerging alternatives for mental health recovery.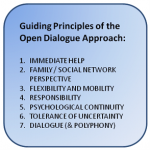 Most recently we learned of a mental health program in Northern Finland that had an extremely high rate of recovery for patients with severe mental disorders.  Their program used a technique they began 25 years ago called Open Dialogue.  The approach, described on MindFreedom.org, "de-emphasizes the use of drugs and focuses instead on developing a social network of family and helpers and involving the patient in all treatment decisions. Ongoing research shows that over 80% of those treated with the approach return to work and over 75% show no residual signs of psychosis." While researching this we found that there were actually a few small programs here in the U.S. that were using some of the methods developed in Finland.
One of the most successful is an organization called The National Empowerment Center, NEC which is led mostly by 'people with lived experience'.  The current Executive Director, Daniel Fisher, was diagnosed with schizophrenia in his mid-twenties.  Once he recovered he went on to raise a family, get a Ph.D. in psychiatry and run a program that believes deeply in the possibility of recovery.  One of NEC's programs is called Emotional CPR which is designed to teach family and friends how to engage and communicate more effectively with a loved one experiencing an emotional crisis.
Someone told me that, "Making a documentary is like chasing a wild animal. You never know where it is going to lead you." When I met the Nechung Oracle in 1994, I had no idea that 20 years later the experience would lead me here.
We are planning to go to Los Angeles in a few weeks to interview Dr. Fisher and see for ourselves what happens in an eCPR training.
Do any of you know of other organizations that are having success using an 'Open Dialogue' approach to recovery from severe mental disorders?