Adam became homeless in Seattle this past winter.  So when someone offered him a chance to house-sit in Maui, he sold his car and headed for warmer weather.  By the end of January, his house sitting services were no longer needed and he found himself homeless and sleeping on the beach.
When I arrived in Maui in February to meet him he had just been admitted to Maui Memorial Medical Center with a badly infected foot.
As I interviewed Adam in his hospital bed he explained how his 'guides' contact him by a poke in the back—what psychiatrists would refer to as a 'tactile hallucination'. He mentioned that he wasn't hearing voices, but he was having thoughts that were "clearly not mine". He also shares that he got to a point when he was no longer frightened by the 'interactions' and instead began learning from what the 'guides' were imparting to him.  He explained how being homeless and essentially penniless forced him to trust in fate and the good will of others for support.
Since I have never been homeless or had 'interactions' with internal guides, it isn't always easy for me to relate to Adam. If you ask what I believe, at this point, all I can say is I know Adam is sincere and has a remarkable ability to remain positive while facing very unpleasant situations.
Adam also spoke to me of his ability to direct energy and use it for healing.  While with him in the hospital I mentioned I had strained my back on a hike the day before.  He offered to help and out of curiosity I accepted.  He put his hands over my back and I felt heat—not just warm hands but heat.  Normally when I strain my back it can take 4-5 days to heal. The next day I was happy to find it felt normal again.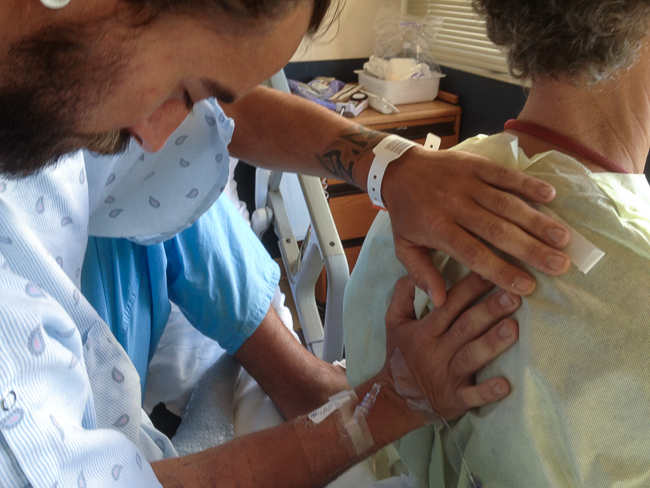 Now I have joined people like Ron and Adam's mother that have personally experienced his ability to direct energy for the purpose of healing.