This is my first experience in making a documentary that is unfolding as I'm working on it. There are times when I ask myself if the events that are happening are going in a direction that will work as a film.
A few days ago I received the following note from Ron's mother, Barbara. Barbara's note was just one of those gifts along the way that reaffirms the potential value of this project. Thank you Barbara!!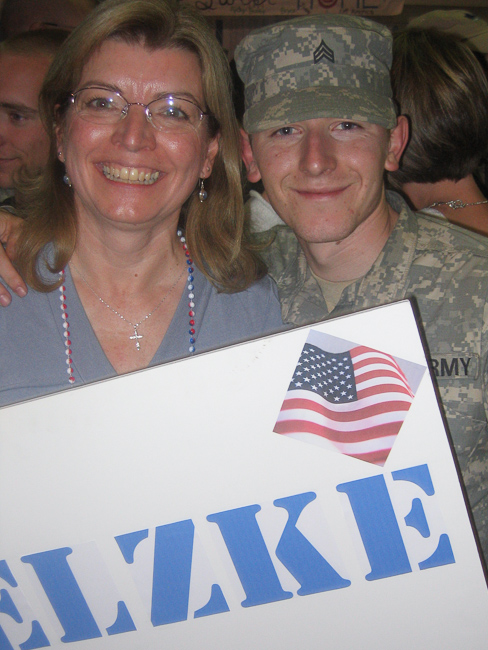 Ron and his mom when he returned home from the Army.
"I am thankful to you for capturing Ron and his memories and experiences, which have allowed me to see and hear more about what Ron has experienced, in the war and after returning home. I am learning things I had not learned before from Ron. It saddens me to see the impact of the war experience on Ron, and to know he is one of thousands, living with similar memories and experiences. However, it also encourages and inspires me, to see and hear how healing can happen, for Ron and others. And to contemplate the role that people like Adam can have in that healing.
Thank you for doing this work you are doing! Thank you for capturing and sharing these insights and messages with us! I am hopeful that your documentary could be very healing and helpful to other veterans, to other spiritual guides like Adam, and to people whose life work involves assisting and guiding people who have had profound spiritual experiences or profound moral injuries."   – Barbara Zuelzke
Last week I went to the San Francisco Bay Area to interview some of the pioneers of Transpersonal Psychology (the school of psychology that studies transpersonal or spiritual aspects of human experience). They had a lot to say about the healing potential of non-ordinary states of consciousness that Adam is experiencing. It was interesting to hear Stan and Christina Grof, Roger Walsh and Angeles Arrien talk about the potential for spiritual awakening that is so closely tied to psychosis. I look forward to sharing what I learned from them with you.