I like the subject to look as directly into the camera as possible when being interviewed. This has proven to be a difficult thing to achieve. One of the ways I have attempted this is to use a long focal length lens and place the camera behind the interviewer and slightly to his or her side. This has its limitations. For one the subject is still not looking directly into the camera even though the parallax has been greatly reduced. Also unless the interviewer is very still there is a chance that they will pop into the frame from time to time as they engage the subject.
Today I'm going to try a simple solution from VFGadgets called from EyeDirect.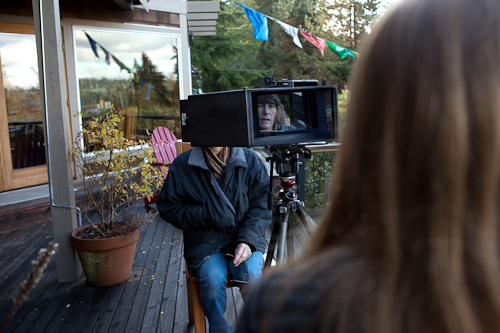 It's a cold winter day in Seattle but I wanted to see how this would work outside with a lot of light coming in from all directions. I'm glad I did this test before committing to take the rig down to Guatemala next week for a film on Violence against Women for the UN.
I learned that the interviewer has to appeared dead center in the mirror or the slight shift in the subject's eye contact was noticeable and distracting. It would have been better to have the typical off camera eye contact.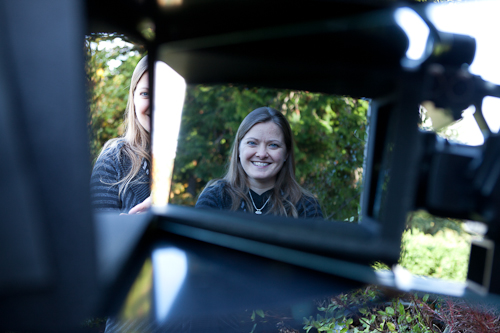 The EyeDirect unit is built like a prototype and could use a lot of refinement, especially considering its $1500 price tag. It's rather clunky to set up—needs an allen wrench to make adjustments and set up instead of knobs or wing nuts.
The mirror tilt adjustment knob did not hold the adjustment and I had to use waded up tape to hold the mirror tilt adjustment.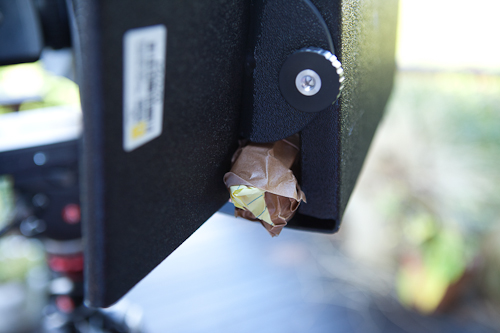 After using it on two subjects their comments were– it did take a little while to get used to talking with a disembodied head in the mirror but after a few minutes they forgot about it.
Here are the results.
Conclusion: Although a bit clunky I will probably rent the unit for the Guatemala film. If anyone knows of a better solution please let me know.