Evidence of the Tibetan daily devotional practice — a practice intended to expand their compassion to include all "sentient beings" and remind them of our "interconnectedness" – is seen everywhere.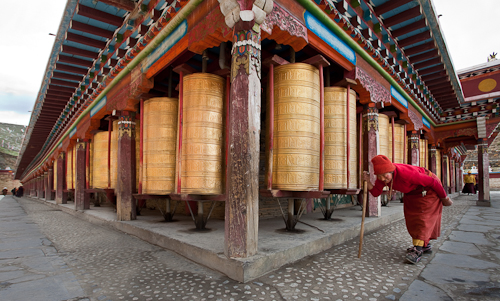 Every morning Tibetan Buddhists walk clockwise around various objects of veneration such as monasteries, stupas or sacred mountains.  I've watched hundreds of devotee's make their way around the koras of monasteries and mountains in spite of their arthritic hips, knees or backs.   Many walk for hours keeping track of each circumambulation with prayer beads or small stones placed at the starting point.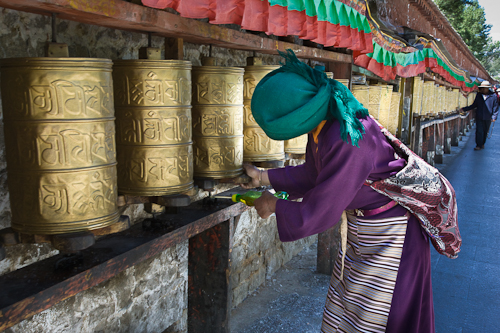 Mani wheels of all shapes and sizes are found everywhere in Tibet.  The mantra "Om Mani Padme Hum" is written on papers inside the wheels as well as the outside.  Spinning the wheels in a clockwise direction helps the devotee focus and calm the mind so they can spread spiritual blessings and well-being.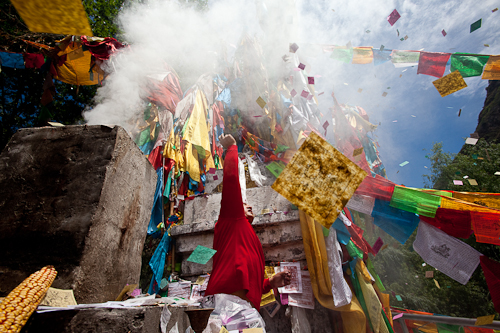 Devotees throw small "mani papers" into the air on mountain passes and various ritual locations to help spread prayers for well being.  Juniper branches are burned for incense and to sanctify the air and help spread the blessings.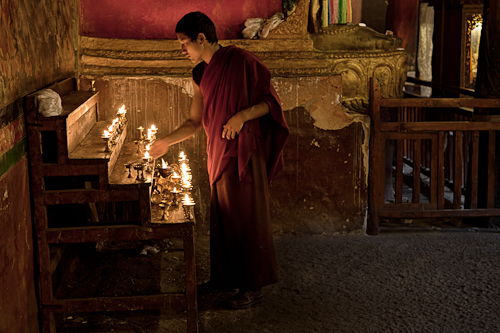 Butter lamps are a conspicuous feature of monasteries and homes throughout Tibet.  Typically Tibetans light a butter lamp every morning and place seven bowls of pure water as an offering before the images on their household shrine.  Pilgrims visiting monasteries supply butter to the burning lamps in order to gain merit.  They use the butter lamps to help focus the mind and aid their meditation.
These devotional practices are part of the Tibetan recipe for well-being and happiness.  While in Tibet I stopped and asked myself "What makes me happy"?  How does my culture guide me in this pursuit?  A diet of new cars; big houses; millionaires and billionaires; young beautiful faces; celebrity and tons of stuff bombard me daily.  This is what I'm encouraged to aspire to in order to set myself apart from the crowd!  What a contrast to the Tibetan pathway that strives to dissolve the "illusion of separateness" by conquering the "self cherishing" attitude.  I think about my own personal ambition and desires and my culture's dependence on ever expanding economic growth and consumption—a dependence that is being exported to the rest of the world.