Last month thousands of Tibetan students took to the streets to protest the Chinese Government's decision to make all elementary and high school education in the official Chinese language, Mandarin.  China has recently mandated that all children go through grade 9 and has plans to increase it to grade 12 soon.  If Tibetan Nomads fail to send their children to school they get fined.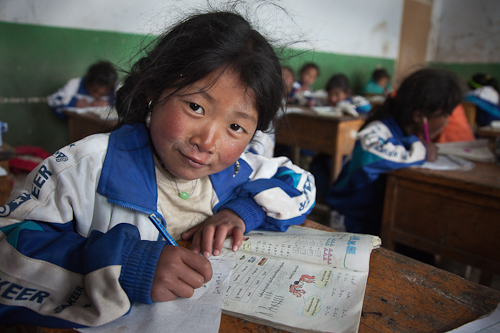 Tsering, age 10, studying math at boarding school for nomadic children
To be fair the Chinese government is not alone in wanting to standardize the language of its citizens.  We have our own debates about bilingual education and we have a history of brutally forcing Native Americans not to speak their native languages.   Then there is the issue of postgraduate education. If Tibetan students do not speak fluent Mandarin it will be virtually impossible for them to pursue an advanced degree.
According to Ken Hale, a professor of linguistics at MIT, there are 6,000 languages spoken on earth today and 3,000 are not spoken by the children.  Every two weeks another elder goes to the grave carrying the last spoken word of an entire culture.  When the language dies the culture dies.  This is a silent extinction in that we scarcely hear about it in the media.  It is our cultural diversity that gives our species its resiliency, creativity and strength.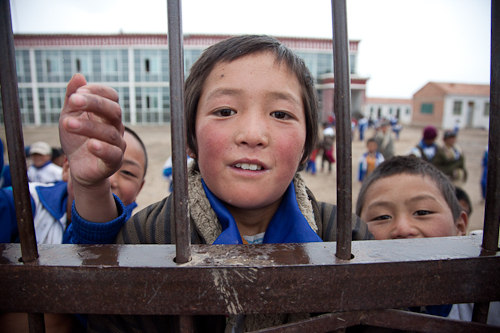 Nomad children at boarding school
If you spend anytime with the Tibetans you will most likely realize, like I have,
what a special culture they have.  I have never been with a people that return a smile and laugh as readily as they do–having a cultural tradition and devotion grounded in compassion shows.   If there was ever a good argument for a solid bilingual educational curriculum this is it.