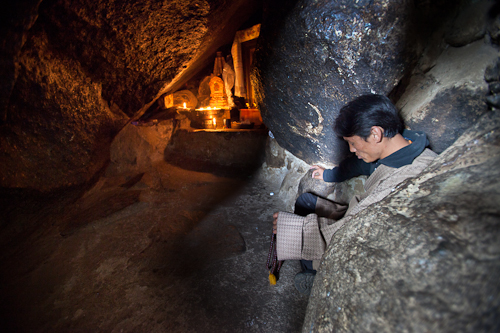 Lumbum meditating in the cave where Guru Rimpoche once meditated.
I am frequently asked how I go about finding a guide on the trips I take. A good guide is critical to the work I do. Of course I need someone who speaks fairly good English, but the most important quality I'm looking for is an outgoing personality and good people skills. I have found on a few occasions someone from an indigenous group who has managed to learn English will carry a superior attitude and be a bit arrogant with their own people. It is something I have come to watch out for. I guard against it by arriving on location a few days early so I can meet and go out with him/her on a test run before committing to a 4 to 6 week trip. I have had to change guides on a few occasions because of arrogance or shyness issues. It shows up especially during the interview.
On my last trip to Tibet I was blessed with an excellent guide by the name of Lumbum. A good guide is especially critical in Tibet where everything is so sensitive because of the current political situation. Lumbum is hardworking, very outgoing and cares deeply for his fellow Tibetans and their culture. He knew how to engage with our subjects in a way that allowed them to open up about their personal lives without getting into politically sensitive topics. We happened to end up with a driver with a hot temper. For several weeks I watched with admiration as Lumbum skillfully navigated this difficult personality. If you have any plans to go to Tibet I would highly recommend getting in touch with Lumbum. He will help make your trip fun and meaningful!!
Lumbum (English Tour Guide)
Cell phone No.:+86 (0) 13893956746(Amdo)
Cell phone No :+86 (0) 15089036734(Lhasa)
happyfreeboy2003@gmail.com