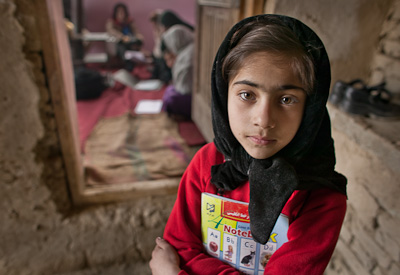 Hadia, age 11                   Out-of-School Girls Program, Kabul, Afghanistan
By 2000, UNICEF reported that only 4 to 5% of Afghan children were being educated at the primary school level. Fewer still had access to secondary and university-level education.
According to the World Bank, "Since 2002, more than 6 million students and teachers have returned to school." 
The organization, Ayni Education International, has certainly had a hand in the increasing education, especially for girls, in Afghanistan.  Featured this week in the Seattle Times, Ayni was founded by Seattle based Julia Bolz.
From Ayni's website, "Our main project, called "Journey with an Afghan School," began just months after 9-11 and the Taliban were removed from power in Afghanistan. It is a grassroots project to build and supply schools for Afghan children. 
With funds raised by communities across the country, we have defied all odds by building and supplying 19 new schools and repairing over a dozen others, serving about 25,000 Afghan students. We also have provided wells; distributed text-books, school supplies and athletic equipment; provided teacher trainings; and set up libraries, computer centers and PTAs. Most recently, we set up two teacher training centers, training several hundred teachers."
As I continue to add to the "Call to Action" portion of a new website to be launched soon (www.stirringthefire.org) I am continually amazed by the extraordinary people like Julia Bolz that are making a difference.  Thanks Julia for your wonderful work!