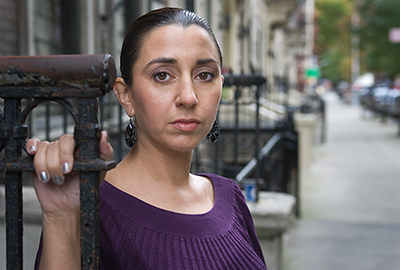 Rachel Lloyd, founder of GEMS, New York City
Exploited and trafficked girls in the United States
According to the Department of Justice, over 100,000 adolescents are involved in prostitution in the United States.  Sgt. Fassett of the Dallas Police dept pointed out an obvious irony of this situation.  "If a 45 year-old man has sex with a 14-year-old girl and no money changes hands, she will probably be sent to a counselor and he will likely get jail time for statutory rape.   However, if the same man leaves money on the table after having sex with her, she will probably be locked up as a prostitute and he will probably just get a fine as a john."
Last Friday I went to Harlem to interview and photograph a remarkable woman by the name of Rachel Lloyd.  Rachel is the founder of Girls Educational and Mentoring Services (GEMS) in New York City and has dedicated her life to the struggle to end sex trafficking.   Rachel herself a survivor from an alcoholic family in England dropped out of school at 13 and was recruited into the sex industry.  Like so many girls who end up on the streets she was raped and attempted suicide three times.  Eventually, she emigrated to the United States where she vowed not only to change her life but also to help empower girls and young women in need and fight for their rights.  She went back to school, first earning her GED, then a Bachelor's degree in psychology and finally a Master's degree in urban anthropology.
For more than ten years, GEMS has been at the forefront of the movement to end the commercial sexual exploitation of children, building a national reputation as the country's leading resource on the issue. GEMS has trained thousands of service providers and professionals who come in contact with at-risk youth to recognize signs of exploitation and to intervene and assist young women in their healing and recovery. GEMS' success is due in large part to Rachel's compassion for and understanding of young victims, her ability to work with political and community leaders, and her desire to change perceptions of commercially sexually exploited victims.
Rachel told me that historically law enforcement in our country has punished the victims of the sex industry—the vulnerable and exploited adolescent girls that are coerced and trafficked into the trade.  She said that labeling and jailing them as 'teen prostitutes' instead of what they are–exploited and trafficked children– while ignoring the 30 to 40 year old men that sell and buy these girls has been a crime in itself.
I took Rachel's  photograph on the street outside the GEMS small office and then conducted the following interview in her tiny cubicle while her energetic staff of young women went about their important and  revolutionary work.
Rachel's interview really opened my eyes to the problem of sex trafficking—especially of children– here in the U.S.  Take a listen!